After catering to many celebrities, both local and international, sports stars, influential professionals, and high powered business men, Everest Barbers is happy to announce the launch of our "Private Haircut".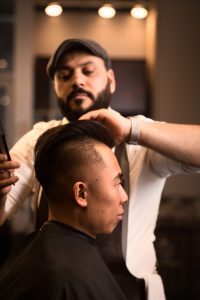 Knowing that not everybody wants to have their hair cut, their faces and necks shaved or their eyebrows shaped in the middle of the bustling barbershop, we want to allow you to enjoy the calm of a closed shop with all details catered to you.  Love jazz music or want to catch up on your favourite podcast?  We will play it.  Need complete silence to think?  There will be no music or chatting.  Are you craving a calming green tea or is more of a scotch kind of day?  Any other specific details you want or need, we are happy to accommodate.
Impress an out of town visitor or colleague
Great gift for your Dad or partner
The perfect gift for the hard to shop for guy who has everything
 Start with our basic package and customize it to your liking.
BASIC PACKAGE $350
Haircut and style

Shampoo and relaxing head massage

Hot lather neck shave with a straight razor

Hot towel

Beverage of choice

Enjoy a cigar or/take home a product of your choice
Inquire for prices-for available add ins
Beard shape with line up

Deluxe straight razor shave

Eyebrow shaping

Facial
Want to make an evening of it with a group of 4 or more?  Please contact us for special details and pricing.
All appointments must be booked via email or phone.  Availability Monday to Friday, with starting times between 5:30 and 6:30