Ever thought about your Barber?  Why they do what they do?  Read on for some weird but useful facts about the history of barbering.
CAVEMAN BARBERSHOP
Scientists suspect that humans have been shaving since the ice age.  Back in the day, facial hair was a big NO NO because it would hold water and then freeze.  No blow dryers for the cavemen!
More than 6,000 years ago there were tomb paintings in Egypt showing barbers at work, using sharpened sea shells in place of a razor..
OLD SCHOOL BARBERS
History tells us that barbers used to be  mostly priests.  They were very against facial hair and would shave the men to help ward off any evil spirits.
In Ancient Greece, between 300 and 500 BC, barbers would set up in the local marketplaces and cater to the men, cutting their hair, offering shaves  and trimming their fingernails.  (Not unlike the modern barbershop, gossip and all!)
BIBLE BARBERS
God tells the prophet Ezekiel "As for you, son of man, take a sharp sword; take and use it as a barber's razor on your head and beard."
God then tells him to weigh the hair…not too sure why!?!
KNIFES AND BLOOD!
A traditional barber pole is red, white and blue to represent bloodletting.  Bloodletting is a medical practice from the Middle Ages that involves cutting open a vein to let a little blood to drain out.  It was believed to cure a simple cough to more extreme conditions.  Monks and clergy men used to perform this, however Pope Alexander banned them in 1163 and the badass barbers took over!
WHITE : Bandgaes
RED : Blood
BLUE : Veins
BARBER? SURGEON? SAME THING?
In the Middle Ages, Barbers would also perform many random surgical procedures, including tooth removal, enemas and chiropractic-like neck cracking.  In the 13th century, somebody finally woke up and realized this wasn't the best idea and created separate industries, yet barbers still performed tooth removal and chiropractic work.  Would you let Amar remove YOUR tooth???
WAS THE CIVIL WAR WAS A GOOD THING?
Before 1861 in the United States, it was very rare to find a man with any facial hair.  However during the war, extravagant beards and moustaches became popular, especially amongst the soldiers.  The demand led to an influx of new barbers and the beginning of the real barber experience.  Comfy chair anybody??
NO HAIRCUTS FOR YOU! 
In Copenhagen in 1938 Barbers went on strike and didn't return to work until 1961! TWENTY THREE YEARS!!!
MOP TOPS
In the 60's, The Beatles came out rocking some seriously long, scruffy and controversial hair.  This caused barbers to start learning new techniques and improve their skills.  Thanks Boys!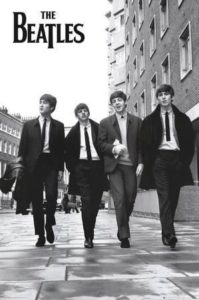 Wonder what they will be writing about in 100 years from now?